It's never too late.
New York, August 2011
I booked into my hotel – Marcel at Gramercy on East 24th Street. On the internet it promised a lot but it's disappointing. It's trying to be a trendy boutique hotel and not quite pulling it off.
My room is missing the most basic things – a fridge for my booze, a socket by the small table/desk in which I can plug my MacAir and charge my phone…basic stuff.  But the good thing about the Marcel is, it's only one block away from the School of Visual Arts, and the first thing I did when I arrived was to check it out. It's Saturday so it's closed, but I peer through the windows. It's not a big place. I like that. But what is big, is the huge statement created from brickwork on the side of the building facing 3rd Avenue.
"It's never too late to get where you're going".
I was approaching 60, and it was time.
I'd read about the Milton Glaser Summer Program back in February, surfing on my newly acquired iPad:
"A rare opportunity to study with Milton Glaser, the foremost artist and designer in his field. For one week (five full days and evenings), Mr. Glaser will conduct an intensive, personal graphic design workshop for professionals in applied arts. Acceptance to the program is highly selective."
I wanted to go! But would I be accepted?
Milton Glaser had been a design hero since I first saw his illustrations as a teenager – a designer-all rounder – basically like me, but a lot older and more talented! He was my role model. He must be well into his 80s. How many more years would he be doing this course?
I applied! I was accepted, and I did something I'd wanted to do for many years. I resigned from the design business I'd co-founded in 1983. A succession plan was already in place, and there was plenty of time for everyone to get used to the idea, but it was still a wrench and a difficult six months.
I stood looking up at the sign that first day. "It's never too late to get where you're going".
I walked through the doors of the School of Visual Arts, with three bags – one filled with sketch pads, crayons, rulers and all the stuff I'd carried around as a young student – in the other my MacAir, iPad and other 21st century goodies. Under my other arm I carried my homework, wrapped in a large plastic bag.
I'd received the homework assignment earlier that summer:
"On a 15" x 20" board, using it vertically or horizontally, make a chart, diagram or composition that indicates as much as you can analyze, the major artistic influences in terms of personalities, events, experiences, or studies that have profoundly affected the way you work. Include characteristic methods of working, obsessions, materials (watercolor, inks, collage etc.), recurring themes and forms."
I divided the space into 1" squares – 300 images that represented my life to this point. This labour of love was similar to a wall of miniature instagram posts. Not sure what Milton would think of it. I'd soon find out.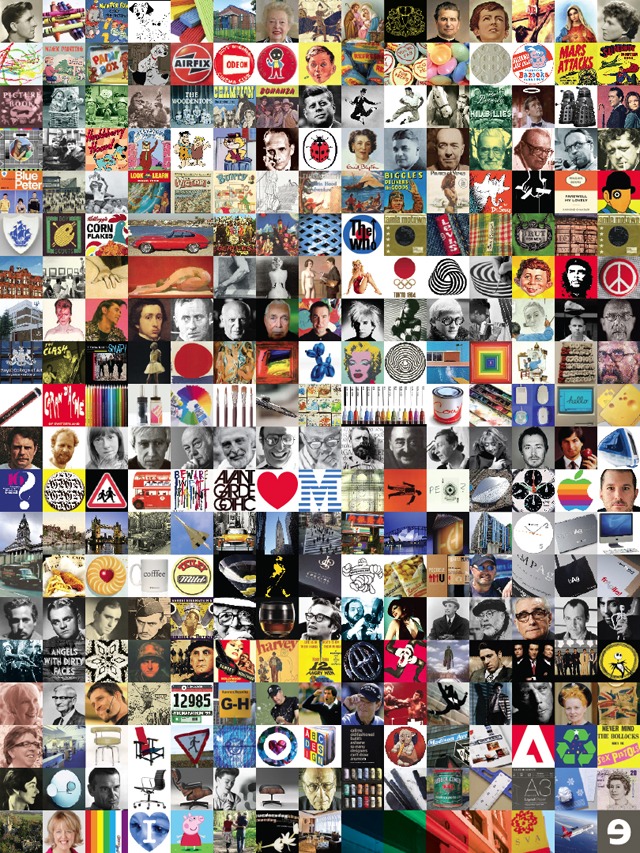 On the 6th floor I followed the A4 (well not actually A4, but US Letter sized) pieces of white paper taped to corridors and doors, on which rather unassumingly, in Arial, was printed Glaser Workshop with an accompanying arrow. They led to a large white studio – so bright I almost wanted to put my sunglasses on.
There were already a few students there, sat at desks, neatly arranged in rows. I introduced myself to some of the students, one who was reassuringly older than me – Bob a design lecturer from Wisconsin.
At the back of the room was a large table laid out with coffee, bagels, muffins and fresh fruit. And a large refrigerator loaded with every type of soft drink. I grabbed a coffee and a seat at the front of the class. More students arrived and at five to nine the man himself made his entrance.
He wore a pink shirt with white collar and cuffs, chinos, Timberland canvas shoes, aviator sunglasses and a Panama hat. I felt the urge to stand up and applaud, but everyone else seemed rather ambivalent so I remained in my chair. Milton / Mr Glaser / Sir, (not sure what we were supposed to call him yet) asked us to move all the tables to the back of the room and bring all the chairs to the front where he sat, legs crossed on a swivel chair. He then called out the register. It really was like being back at school.
As he called out names (many unpronouncable from all parts of the world), he asked each of us why we were here and what we expected to get out of the class. I told him the course had become a catalyst for change in my life, and how today was my first day of work as a 'one-man-band' for nearly 30 years. He smiled.
After the register we were all asked to pin up our assignments on the wall facing the class. As you can imagine it was a varied collected of interpretations of his brief. Some had obviously taken many hours/days to complete, others looked like they'd been hastily assembled a couple of hours before the start of class.
Milton asked the class, which assignment they'd like to know more about. A number pointed to mine. I walked to the front and introduced myself…
And so began a new chapter.
Seven years later, I remember that week with mixed emotions – good and bad (another post). I'm still Facebook friends with a few of my class. Babies have been born, children grown, I still love working in design. Milton is still with us, still a role model, still a hero.